Navigating travel to and from Fiji – a simple checklist
There are some new procedures in place that everyone coming to Fiji needs to be aware of. Please ensure you've completed each of these steps before your trip to Fiji and double-check the return travel requirements in your home country. We also recommend allowing some extra time at the airport both on arrival and departure, and printing documents to ensure a smooth trip.
Fiji welcomes fully (double) vaccinated travellers from anywhere in the world. They now only need to show evidence of the following at check-in:
Proof of full vaccination 
Travel Insurance  
Below is more detail on each of these requirements so please ensure you have completed all steps before travel.
Before you travel to Fiji we recommend printing copies of all the
Proof of vaccination. Everyone over 18yrs must be fully vaccinated with a recognised vaccine (Astra-Zeneca, Pfizer, Moderna or Johnson & Johnson. You are not considered fully vaccinated until 14 days after your second dose. Australians will need to download the Medicare App to generate their INTERNATIONAL vaccine certificate. Americans will need a vaccination card.
Travel insurance certificate. You must have travel insurance that covers you for COVID.
Returning home: the USA and Australia have dropped entry testing requirements so it's really simple to travel!
If you are not able or unwilling to comply with these regulations then please do not attempt to travel. Anyone who refuses testing will be referred to the Ministry of Health.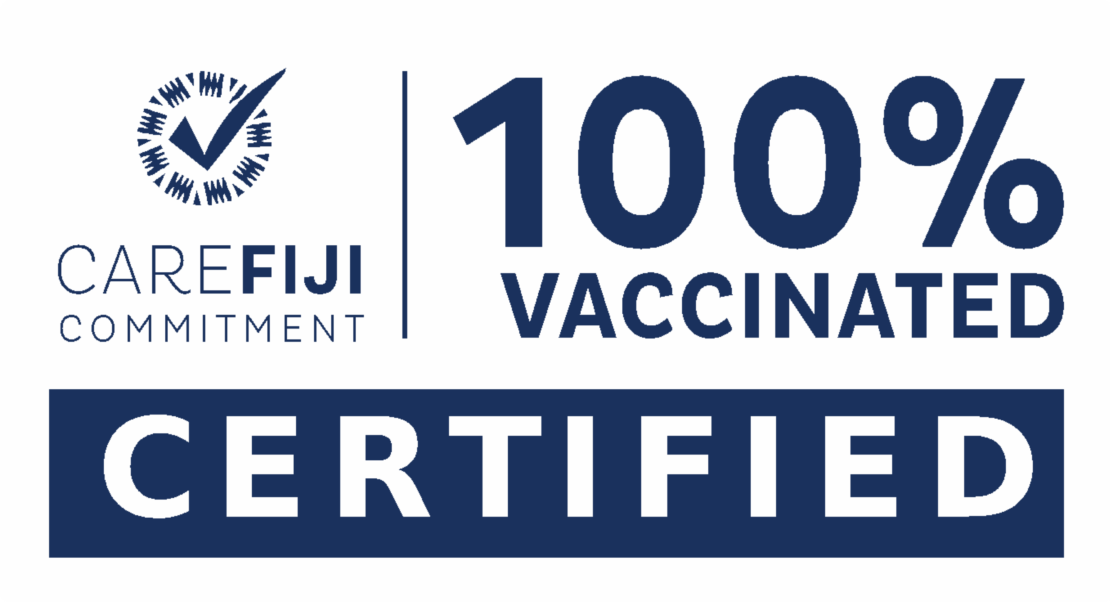 **Note that Namotu is a CFC certified hotel.
Additional procedures are in place on Namotu and throughout Fiji to help prevent the spread of COVID-19. Look for this symbol on accommodation, transfer and tour providers.
The Usual Arrival Info
Upon arrival in Nadi airport you will be greeted by our friendly Namotu Island staff. Your journey to the island begins aboard one of our private air conditioned buses for the 45 minute ride through Nadi town and down to the coast. A Namotu long boat will meet you at the Marriott Momi Bay and bring you across to the island, which usually takes about 25 minutes. Our transfer drivers are fully vaccinated and comply with the CFC regulations.
Check in is 11:30am Sundays. We operate in 7 day blocks with checkout the following Sunday at 10am.
What to Pack
If requested by prior arrangement, a helicopter can fly you to the island in less than ten minutes.
If you're flying out later you'll spend the day at the Marriott. Enjoy lunch, relax by the pool and then our transfer service will take you to the airport.
Onward travel
If you'd like to extend your trip to Fiji or simply book an extra night or two before your visit to Namotu, we recommend the Marriott Momi Bay.