Navigating travel to and from Fiji in 2021/2022 – a simple checklist
There are some new procedures in place that everyone coming to Fiji needs to be aware of. Please ensure you've completed each of these steps before your trip to Fiji and double-check the return travel requirements in your home country. We also recommend allowing some extra time at the airport both on arrival and departure, and printing documents to ensure a smooth trip.
Show proof of vaccination, it will be required before you board your flight. Everyone over 18yrs must be fully vaccinated with a recognised vaccine. Currently this includes Astra-Zeneca, Pfizer, Moderna and Johnson & Johnson. Note that you are not considered fully vaccinated until 14 days after your second dose so please don't leave this till the last-minute. Australians will need to download the Medicare App to generate their vaccine certificate. Americans will need a vaccination card.
You must travel from a travel partner country or have been in one for a minimum of 10 days. Partner countries currently include: Australia, Canada, France, Germany, Japan, Qatar, Republic of Korea, Singapore, Spain, Switzerland, United Kingdom of Great Britain and Northern Ireland, United Arab Emirates, United States of America, New Zealand, Cook Islands, Kiribati, Marshall Islands, Federated States of Micronesia, Nauru, New Caledonia, Palau, Samoa, Solomon Islands, French Polynesia, Tonga, Tuvalu, Vanuatu.
You must have proof of a negative RT-PCR test result taken within 3 days of your flight's departure. Please note a SMS result is NOT SUFFICIENT, you will need a certificate displaying your name as per passport, DOB, testing lab details, date of test, test method and result (must be a RT-PCR test). Australians can be tested at the airport within an hour of your flight's departure at Histopath (Sydney & Melbourne) or at a number of other labs around the country including QML. Expect to pay ~$150AUD depending on the turnaround time needed. Note that home test kits and RAT tests are not sufficient. For Americans, there are a number of service providers including one located in the Central Terminal of LAX and another one offering 15minute tests just a few blocks from the Airport. Please note that fast turnaround tests are not always available so it's best to have a test done a few days before your trip to be safe. Please refer to information on the CDC website. Children under 12yrs are exempt from testing to enter Fiji. If you have previously had COVID-19 you will need to show proof of illness and recovery in case of false positives.
Print your Namotu booking confirmation, this can be as simple as an email confirmation from WaterWays.
Print your travel insurance certificate. You must have travel insurance that covers you for COVID. See below for a list of providers.
Download the CareFiji app.
Take a COVID Rapid Antigen (RAT) test on your second day in Fiji. We do this on Namotu and the charge is small.
Get the right test for your return country. The USA requires a cheap and fast Rapid Antigen test whereas other countries including Canada and Australia currently require a PCR test for ages 12 and above (this may change very soon). For Americans, travellers 2yrs and over will need to be tested with a Rapid Antigen test within 72hrs of their flight. We can do both Rapid Antigen Tests and PCR tests here on Namotu and will do this two days before you depart so we can guarantee the result returns in time (for PCR tests these swabs need to be sent to a lab in Nadi).
Complete any other documents and forms. Australians must also complete the TRAVEL DECLARATION HERE at least 72hrs before your flight. There is an app you can download that makes this quick and easy. You may need additional declarations per state but in most cases you may do this before your trip to Fiji. Americans should check the latest advice on the CDC website. More info on travelling into Australia can be found HERE.
If you are not able or unwilling to comply with these regulations then please do not attempt to travel. Note that you will be tested after you've been in Fiji for 48hrs. We do this quick and easy Rapid Antigen test on Namotu.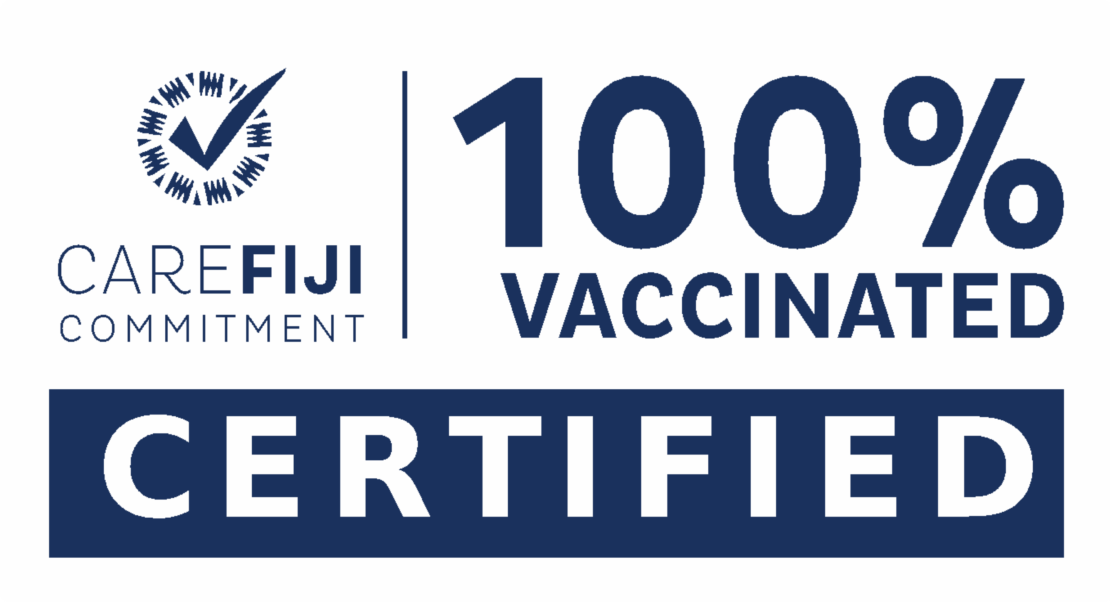 Additional procedures are in place on Namotu and throughout Fiji to help prevent the spread of COVID-19. Look for this symbol on accommodation, transfer and tour providers.
The Usual Arrival Info
Upon arrival in Nadi airport you will be greeted by our friendly Namotu Island staff. Your journey to the island begins aboard one of our private air conditioned buses for the 45 minute ride through Nadi town and down to the coast. A Namotu long boat will meet you at the Marriott Momi Bay and bring you across to the island, which usually takes about 25 minutes. Our transfer drivers are fully vaccinated and comply with the CFC regulations. You'll be asked to wear a mask and follow their instructions.
All your baggage and sporting equipment will travel with you and will be delivered directly to your bure.
Check in is 11:30am Sundays. We operate in 7 day blocks with checkout the following Sunday at 10am.
What to Pack
If requested by prior arrangement, a helicopter can fly you to the island in less than ten minutes.
If you're flying out later you'll spend the day at the Marriott. Enjoy lunch, relax by the pool and then our transfer service will take you to the airport.
Insurance Providers with COVID Cover Policies
North America Cat 70 Travel Plan
North America HTH Worldwide TripProtector Preferred
North America Tin Leg Gold
North America AXA Assistance USA Platinum
Australia Covermore All policies
Australia NIB Travel Insurance All policies
Australia Medibank Travel Insurance All policies
Australia Allianz All policies
Australia Go Insurance Multiple
NZ Covermore Single Trip policy only
NZ Allianz All policies
NZ Southern Cross All policies
NZ AMI All policies
NZ AA All policies
China Xiebao Travel Insurance Happy World Tour
China Allianz Global Tour Columbus Plan
United Kingdom Aviva Worlwide Travel Policy
United Kingdom Post Office Worldwide Travel
United Kingdom Churchill Travel Insurance
United Kingdom Staysure Comprehensive Travel Insur.
Europe (Germany) Allianz Travel health insurance
Japan Aioi Nissei (MS&AD Group)
Japan AIG
Japan HS Sompo (HIS group company)
Japan Sompo Japan
Japan Tokyo Kaijyo Nichido
Singapore AIG
Singapore NTUC Income
Singapore Aviva
Onward travel
If you'd like to extend your trip to Fiji or simply book an extra night or two before your visit to Namotu, we recommend the Marriott Momi Bay. Use our special rate to book your accommodation.
Book Marriott