Hosted by Matt Wilko & Adam Bennetts
Surf with Matt Wilkinson and foil with Adam Bennetts.
These two surf and foil lords have joined forces to create the Ultimate Surf & Foil Week. Ideal for intermediate surfers and foilers of any level from beginner right through, this trip is designed to develop your skills in one or both areas and comes with personal tuition from both the guys as well as a focus on video to support your progression.
Matt has spent plenty of time here during the Fiji Pro Comps over his competitive career and now he's back bringing his Weekend at Wilko's experience to Namotu. Matt will help refine your surfing and guide you at some of his favourite breaks like Cloudbreak and Wilkes. He's joined by flow-master foil coach, Adam and a support team of surf photographers and watermen who're there to help you progress your surfing and foiling. You can focus on one sport or dive deep into both, the choice is yours and there's no shortage of waves and gear to make it happen.
The package includes the all-important video and review (surf and foil) so you can refine your technique and see those skills improve across the week. There's foil coaching for all levels with Adam Bennetts, plus photography, use of jet skis, electric foils, surf/foil gear and all the Namotu usual inclusions like unlimited surf boats, meals and transfers.
These trips are suited to exisiting surfers who want to refine and progress their skills and/or foilers of any level.
DATES
19th – 26th November, 2023
26th November – 3rd December 2023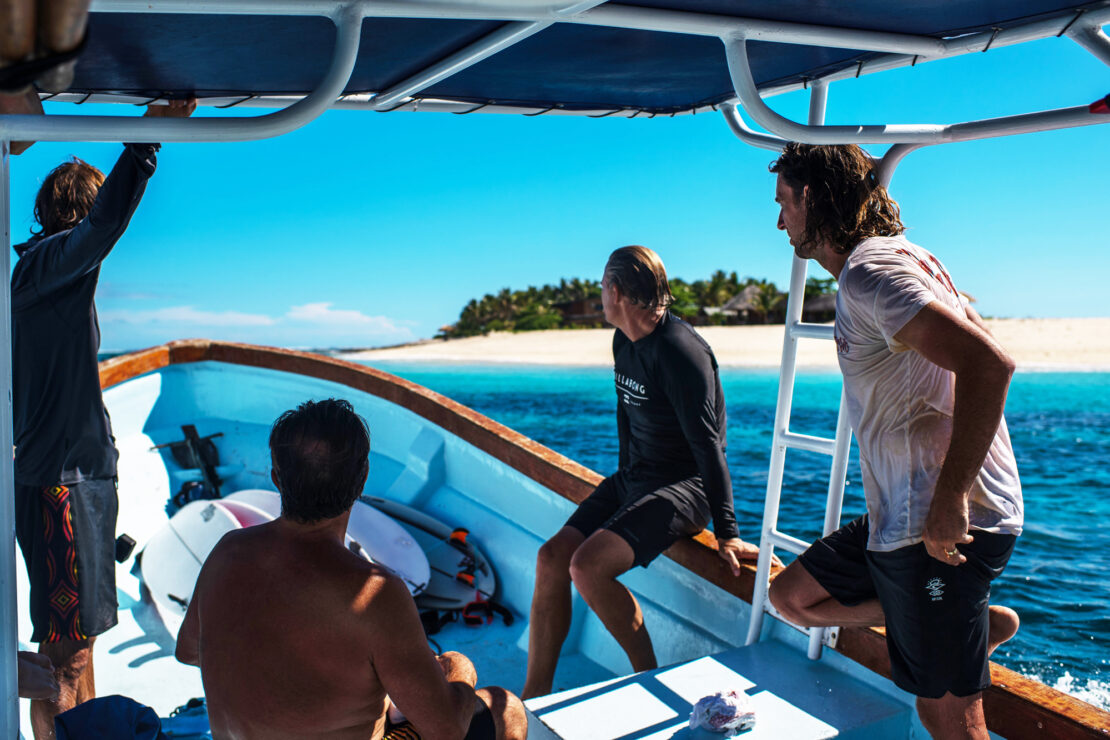 7 Nights on Namotu Island: Watersports Paradise
Located just off the coast of Viti Levu, Namotu Island Resort is one of the most southern islands in the Mamanuca Island Group. Namotu gets surf year round and is situated a stone's throw from Fiji's best surf breaks and in the heart of a wide variety of reefs that create incredible waves.
Check Namotu Lefts, Swimming Pools and Wilkes Pass from the beach or travel just 10 minutes to surf Cloudbreak and 5 minutes to Restaurants. There are lefts and rights, fast and hollow or waves for beginners. Surf, SUP, kite, foil or sail, we have it all on our doorstep. Unlike other resorts, Namotu prides itself on unlimited use of surf boats so you can spend as much or as little time in the water as you like. You can even join the Island's resident fisherman as he catches fish for the restaurant, all included in your stay.
If you love the ocean, this is your paradise. The Fiji Islands enjoys a tropical climate, with average temperatures in the winter months (June-August) of about 84 ' F or 29'C and in the summer months of about 88'F or 31'C. Namotu is easily accessible from the mainland; it takes just over an hour by bus and boat from the international airport making it a relatively simple trip for many.
Surf Conditions
November and December are typically excellent months in Fiji, sitting just outside Trade Wind season and before the summer season when winds can become more northerly. This time of year tends to provide glassy days, regular swells and ideal conditions for foiling and surfing. High tide is ideal for foiling while low to mid tide works best for surfing the local breaks so you can do it all or chose your own adventure.
Photography and Video
Capturing your moments is a big part of these weeks, both to aid in coaching and also give you some great shots to take home. We have a photographer and videographer shooting all week so nothing is missed.
Foil and Surf Paradise
Namotu has incredible foil waves for all levels right on its doorstep as well as world-class waves such as Cloudbreak, Swimming Pools, Namotu Lefts, Restaurants and Wilkes just moments away. These special weeks include jet ski use to really maximise your time on the water, plus the standard Namotu boat service we're renowned for.
Learn to Foil with Adam Bennetts
Whether you're already hooked or you're curious to give it a first try, this is the perfect place for foiling, made even better with the coaching of Adam Bennetts – one of the most exciting professional foilers on the planet who is leading the way in performance surf foiling.
You'll be taken to the best foil waves each day to suit your experience level and the conditions, and a professional filmer/photographer will be there to capture your hits and your misses.
Yoga, Snorkelling & Island Hops
Each day our yoga instructor will guide you through a stretch or vinyasa session suitable for every body and is available throughout the week for private sessions as desired.
Inclusions
Namotu standard inclusions:
7 nights accommodation on Namotu Island Resort (Sunday – Sunday)
Unlimited use of surf boats with unlimited access to Namotu Lefts, Restaurants, Swimming Pools & Wilkes, plus first boat to Cloudbreak
Surf guide in the water with you at all times to ensure you are safe
Fishing with resident fisherman onboard the Mai Kana
Use of soft top surfboards, snorkelling gear & paddleboards
3 meals daily plus Namotu's famous nightly snacks
Tea, coffee & filtered water
Round trip Airport transfers via bus and boat
Daily yoga
Off-Island trips such as Cloud9, Musket Cove & more
Renowned Fijian night & local weekly entertainment
Wifi Internet

Plus Exclusive extras:
Unlimited surf coaching with Wilko (2017 Cloudbreak Champion)
Unlimited prone and tow foil coaching with Adam Bennets (the master of speed and style)
Jetskis for tow foiling
Professional filming & photography
Gift packs
Use of Fliteboards

Special guest coaches to be announced
EXTRAS:
Equipment hire – Don't pack a thing, Let us take care of your equipment needs. $550/pp per week or $300pp/day inclusive of foils, wings, kites, bars, boards, surfboards, twin tips and accessories such as helmets and impact vests.
Massage, heli tours and transfers, & SCUBA additional but available
MORE INFO
Airport/hotel to Marriott (45min by car) then Marriott to Namotu (25min by boat). Total trip 1hr 20min.
If you arrive early we can transfer you to your pre-stay hotel.
Please contact us for package pricing and availability. Prices vary depending on room.
All prices are quoted in US Dollars. When booking, you must book for the entire week on the dates listed.
The Island works in one-week blocks from Sunday to Sunday. Check-in is from 11:30am Sundays with check-out at 10am the following Sunday.
Bookings are secured with a 35% non-refundable deposit. Balance is due 120 days prior to departure.
Flights & luggage, beverages/bar tab, massage, gratuities, travel insurance are not included.
Bookings and more information
---
FAQ
Yes, it is compulsory. You will need a plan that covers medical emergencies and transport, trip cancellation, travel changes, loss of property and luggage. We recommend a comprehensive cover to ensure you're protected. 
April, May & June, but swell year round.
Yes, wireless internet is included.
No, but a long sleeve wetsuit vest or rash vest can be handy.
Depending on swell size there is any type of that you want, long and hollow, or short and fun. 
Yes, we can cater to a range of dietary restrictions, just let us know prior to travel. 
There is a small store on the island but realistically imagine you are in the middle of nowhere, plan for your personal needs, sunscreens, any medications, rash vest etc before you get here. We'll send you a list of things to pack as a guide.
Please make sure you have your PADI certificate and bring your own gear if you like. There will be equipment available, however if you are particular, we recommend bringing wetsuit, fins u0026amp; snorkel. 
240volt with Australian/New Zealand standard outlets. 
You can leave a cash tip for Fijian staff in the box at checkout. It will be split evenly between the staff. If you'd like to tip your surf guides and coaches, please leave your tip with Sasha or Ben who will distribute evenly among them. 
Getting there
The best way to arrive is by plane to Nadi International Airport (NAN). You'll be picked up by one of Namotu's private shuttles and from there by boat to tropical paradise – your home for the week. Helicopter and boat charters are available at an additional cost.
Spend the Sunday afternoon settling into your bure, surfing, kiting and exploring the Island before the welcome drinks with your hosts at 6pm. While the weather is normally reliable, it does influence the day's activities. We aim to maximise kiting when it's windy and surf, SUP, snorkel, kayak, sail and swim when it's glassy. There's always something to do but the timetable is flexible to allow maximum enjoyment of the conditions.
Checkout is 10am on Sunday. Hop on the final boat ride home where you'll be bused back to Nadi Airport or a destination of your choosing.
Staff
We have an amazing team of hosts who are there to teach, support and generally make your stay incredible. HOWEVER, if in the case of emergency, illness or similar, it is a possibility that one or more of the advertised hosts may be unable to attend. In this unlikely event we cannot offer a refund but we will guarantee to replace that staff member with someone equally capable to ensure your week is not affected.