Summer at Namotu Island, Fiji brings with it a few very special things; generally beautiful weather and traditionally amazing fishing. It falls smack dab in the middle of Western Fiji's annual yellowfin tuna run and teams up with peak-season giant trevally fishing.
An account by Duane "Diego" Mellor, Fish Week host & legendary captain
This year's Fish Week proved no different as the Namotu Island Fisho weeks were provided with all the above, enabling our anglers to take advantage of great opportunities on both, highly sought-after offshore and inshore species with Namotu Island's hand-picked team of fishing guides including Dylon Schulz, Mike Hennessey, Ulai, Cameron Bingham and me. Each with our own specialties and experience in and around the Island's bountiful waters.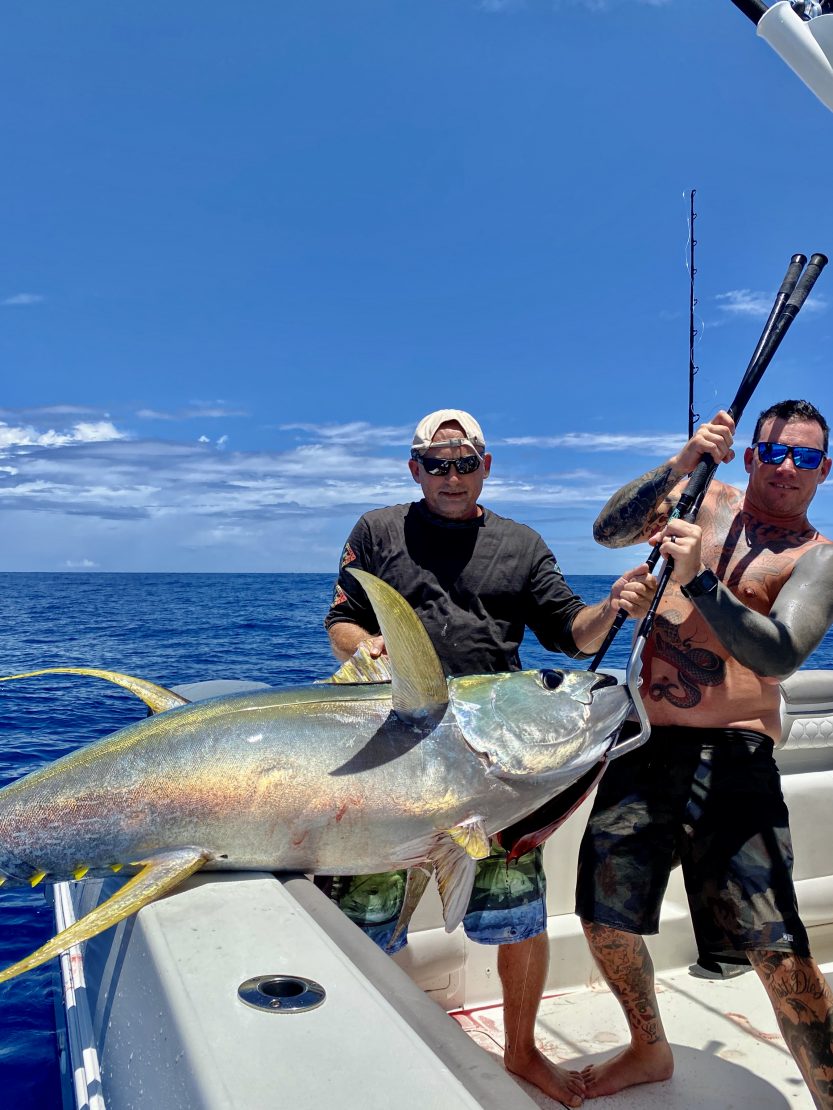 The week begins with big yellowfin tuna…
Upon arrival we found a beautiful, large grade of yellowfin tuna (55-70 kg) feeding on micro-squid and small baitfish on the edge of skipjack foamers that were eager to jump on our trolled DTX minnow offerings, resulting in a few go-arounds on long-sickled tuna up to 68kg and a some very happy anglers. This pattern changed up a bit by day's-end and that evening, in the same area, we experienced a massive influx of school-grade yellowfin that would foam up and attack topwater lures (poppers/stickbaits) almost on cue with a well-placed cast.
This would be the norm throughout the rest of the week. Although we did come across a few spots of larger fish, it was a tough task to get through the fun-fighting, school sized fish and specifically target the larger specimens. Not a bad problem to have, I'd say, as more often than not anglers experienced semi-wide open top water tuna fishing within eye-shot of Namotu Island.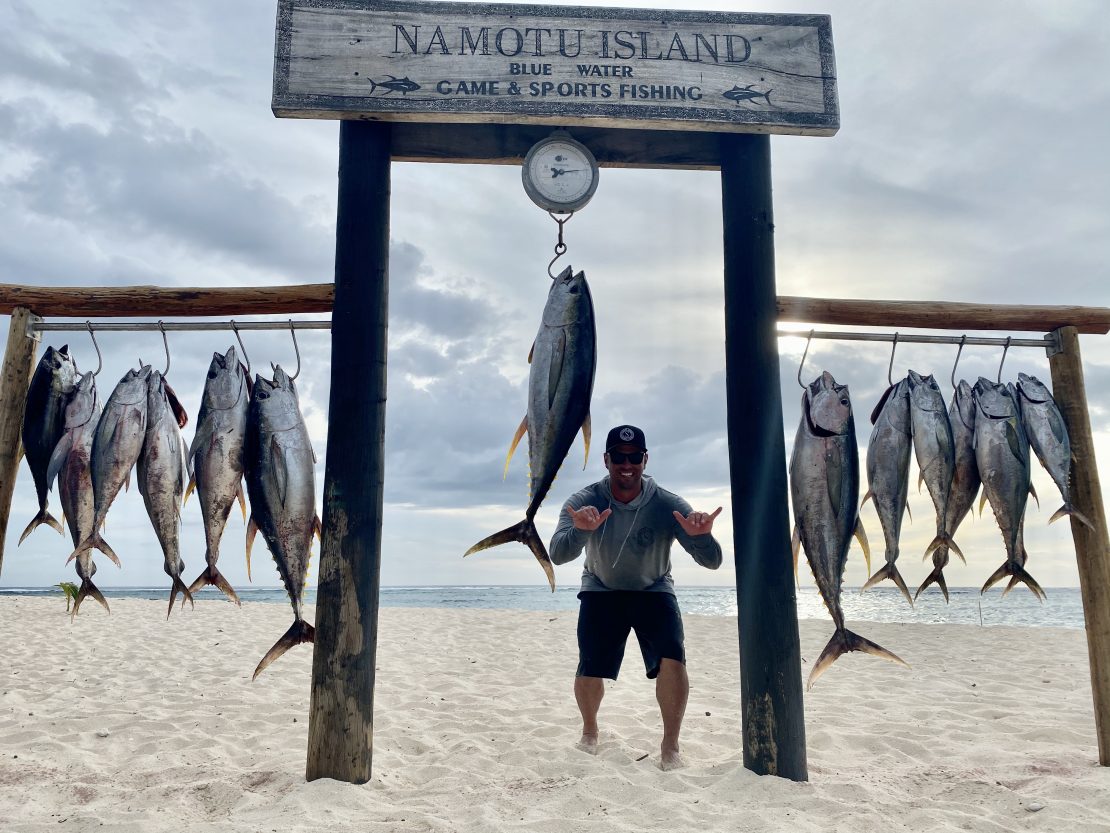 Dogged by Dogtooth Tuna…
Just to mix things up we took guests to do a bit of live-baiting for dogtooth tuna along some key reef edges and were greeted with instant action and exciting bites. But as the typical story goes with dogtooth tuna, they kept the upper hand and left anglers with broken dreams, busted lines and a few more fish stories than they arrived with. Respect to the dogtooth!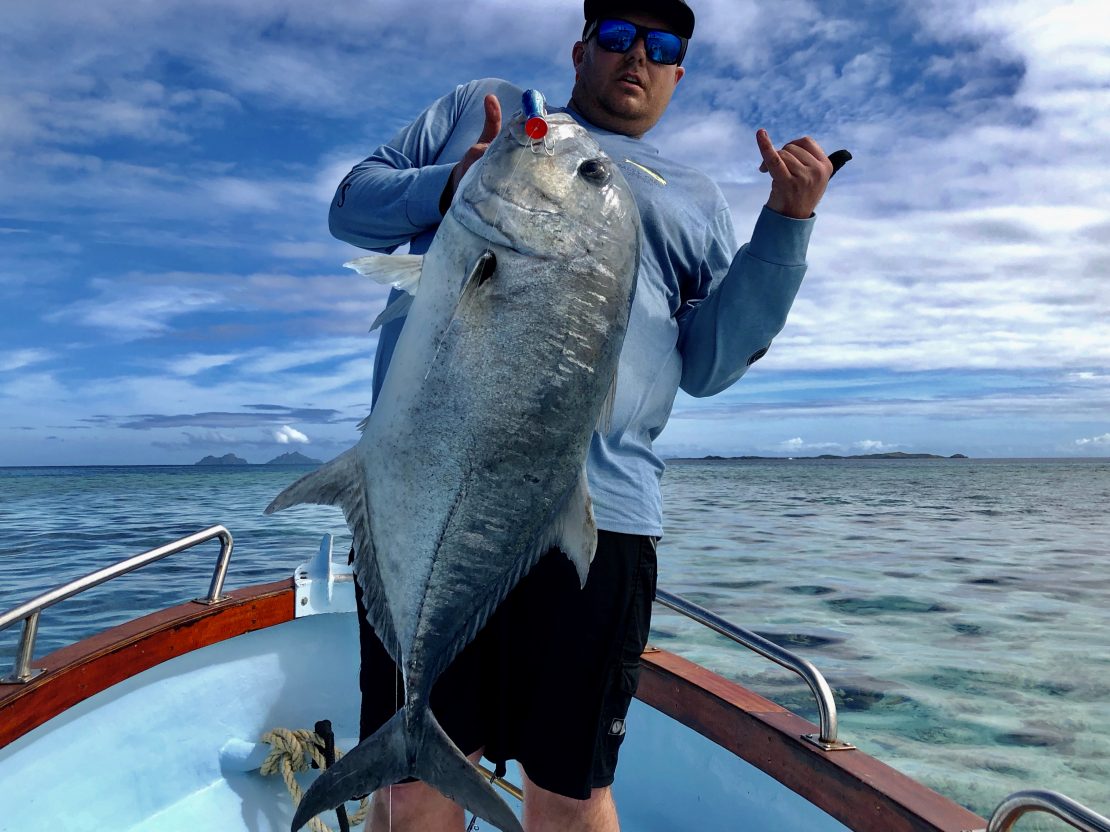 Giant Trevally
As the week continued, the tuna bite kept rolling on but we still had one of Namotu Island's favourite back-pocket, go-to cards to play… The giant trevally fishery certainly didn't disappoint. It seemed by day three, that most angler's were dividing up their day by spending half of their time offshore fishing for tuna and the rest of the day casting their arms off for these notorious kings of the reefs and ledges. Under the skillful boat placement and tutelage of local Fijian ace, Ulai and Namotu's inshore stalwart, Dylon Schulz, our frothed anglers experienced a good showing of GT's, with most trips producing nice fish or at the very least, heart-stopping bites that kept them casting again and again.
Large-sized poppers were the call and fish upwards of 30kg were landed with a few surpassing that size fought and released "long-distance" style. The typical Fijian reef-casting by-catch of walu, large red bass, and various other trevally species mixed up a recipe that kept fisherman excited and guessing what was going to blow their topwater lure out of the water next. This bite lasted through the week and truly showcased the range of shallow-water gamefish species the local reefs around Namotu Island play home to.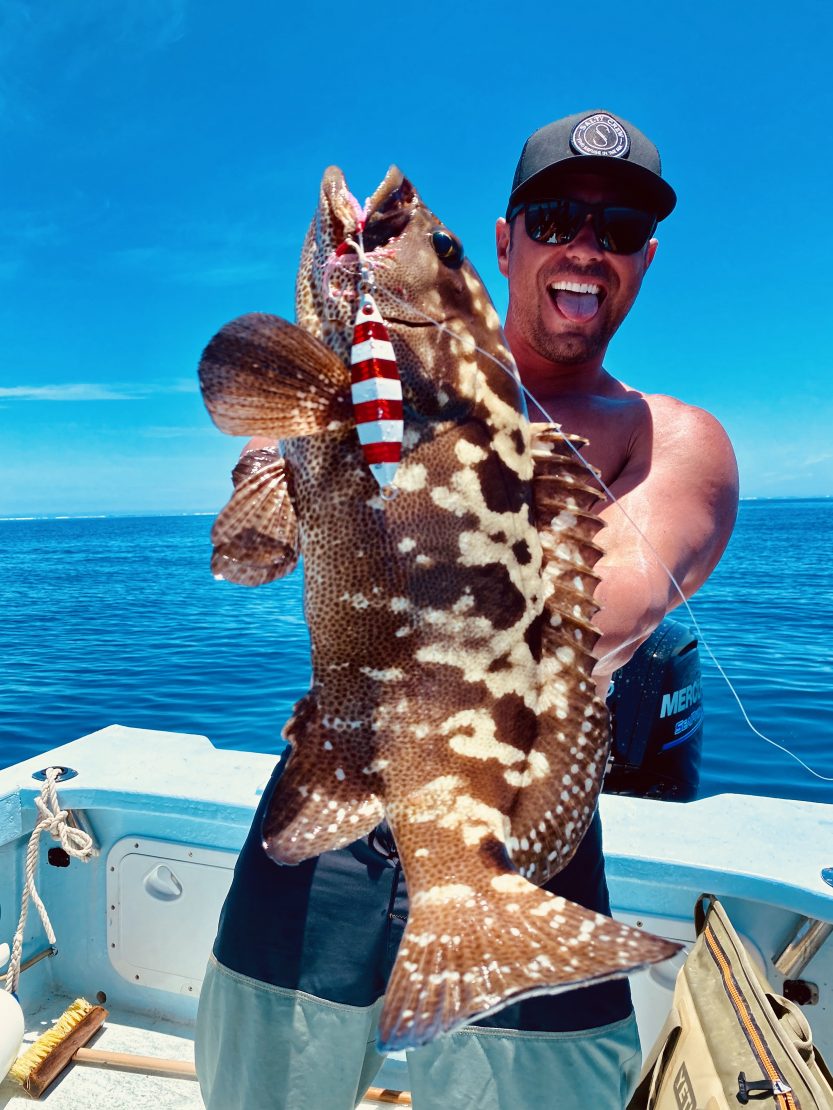 Ruby Snapper, Spotted Grouper & Coral Trout
Fisho week anglers also had a taste of slow-pitch, bottom-jigging, adding some proverbial icing to the already epic cake. Headed by inshore guide Dyllon Schulz , various medium-depth reefs and stone piles were hopscotched and jigged, giving anglers an opportunity to apply a different technique and provide a myriad of tasty fish for the kitchen. From snapper to coral trout and grouper these species are perfectly suited for the eating and added a bit of variety to the fresh yellowfin tuna sushi and sashimi afternoon snacks and meals.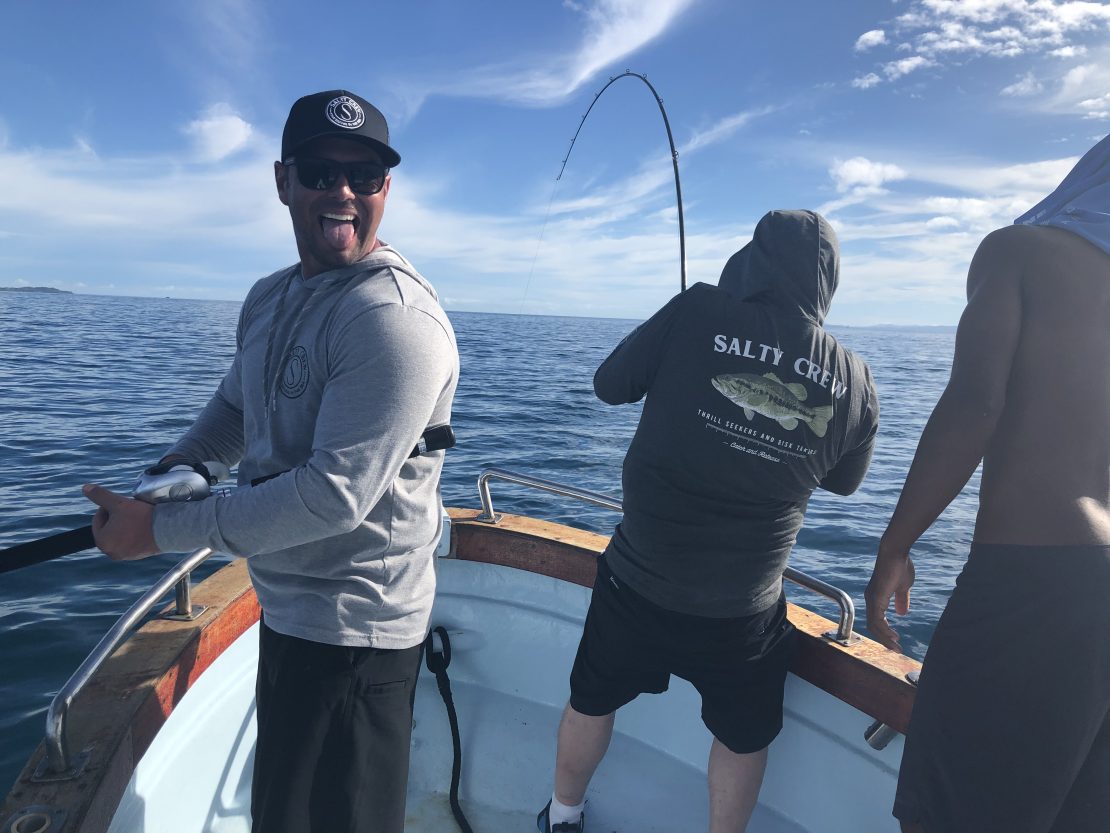 A Happy Ending…
Come week's end, it was all ear-to-ear grins, sore arms and happily aching bodies thanks to the wonderfully consistent fishing, on all levels, that Namotu Island waters provided. As departure day rolled around, the only question that remained on everyone's mind was, "when do we get to do this again?!"
We hope to see you all again next year for more Namotu Island Fisho Weeks in 2020/21! These signature weeks run December-February and also I'm hosting my own week 28 February – 7 March. Enquire for more info and availability.