19 year old Namotu pro surfer and Namotu surf guide/ boatman, Avisai "Api" Tibinaliva hopes to compete in the 2020 Olympics. He has just returned from competing in the ISA Surfing Games in Japan but isn't home in Fiji for long before he's off to the USA for the ISA Juniors this October at Huntington Beach.
We had a chat to Api and his coach Ian Portingale about Japan, plans for the next few months and his hopes for qualifying for the 2020 Tokyo Olympics. Follow his progress on our social media – Facebook & Instagram.
When did you first learn to surf?
Api: I started surfing when I was 10 with my cousin, he was an activities guide at the Fiji Beachhouse on the Coral Coast. Before that I used to play a lot of rugby. I started competing when I was 12 and the first event I went to was the Lighthouse comp in Suva. I lost in my first heat but after that I came back, started training and won it the next year.
Tell us about the ISA Games Miyazaki Competition in September?
Api: Before the Japan comp my coach sent me a training program to help get ready. 20 mins paddling, 10 minutes running, what foods to eat, surfing, learning from photos, working on techniques. We also surfed more small waves to prepare for Japan's beach breaks. It's different from Fiji because it's hard to find a spot on a beach break and it's really different from the reef breaks in Fiji that I'm used to surfing. I took two boards from DHD over and really liked the DHD 3DX – it's great for beach breaks. I think I'll take the same boards to Huntington but might need something a bit longer too.
Japan is different from Fiji and although it's my second trip, the waves are quite soft, not like here in Fiji where waves are solid. Which means technique is important. Speed is really important but hard to get in Japan, not like in Fiji where the waves are solid.
I really liked the people and the food in Japan. My favourite food in Japan is sushi and the people are really nice, like in Fiji. They want to take lots of photos. It's a really good country and I'd like to go back again.
Did you meet anyone exciting in Japan?
Api: I saw Brisa Hennessy and some pros there. Medina, Julian Wilson, Italo and Kelly Slater – he's a cool guy. The opening ceremony was better than last year too, it was really big and I got to meet lots of people from other countries.
What's next for your surfing?
Api: I'm back in Fiji working and training to prepare for the Huntington Beach competition in October. Most of the same competitors from Japan will go to the USA too. The ISA Junior World Championships includes 44 countries and 361 surfers.
This year I'm aiming to beat my result from last year. I really want to win my first heat and get straight through to the next round. The wave at Huntington Beach is usually a right-hander because the left hand side of the a-frame breaks under the pier. But it can be really straight and hard to make sections so you need to pump through the inside to get some speed up for more turns on the inside section.
When the competition is finished we'll try and surf some other places, maybe the wedge. Last year we went to Santa Monica after the competition and went to surf and ride the rollercoaster so hopefully we can do that again!
After that it's back to Fiji then Japan again in March to try and qualify for the Olympics. Only 20 men and 20 women will be selected in from the ISA competitions, the WSL and the Pan American Games. It's going to be tough to get in but I hope to make it.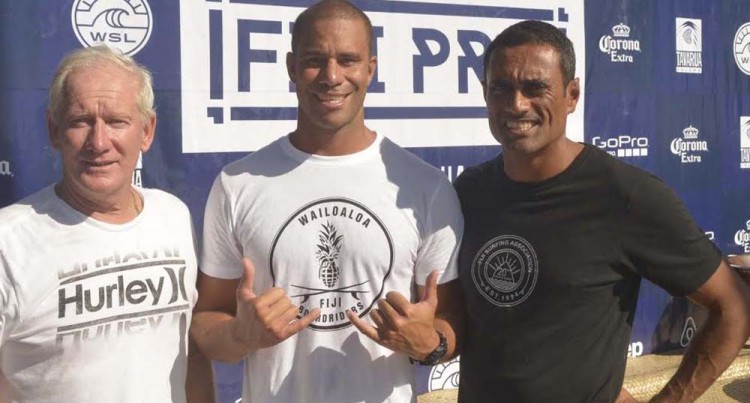 Australian, Ian "Porto" Portingale has been the head coach the Fijian Surfing Team for nearly 10 years and has been coaching Api since he was 13. He started coming to Fiji after the 2010 decree opened up breaks to the public (previously they were for Tavarua & Namotu guests only). He's since seen a big rise in the numbers of Fijian groms under taking up surfing which is a great sign for the future of surfing in Fiji.
When did you start working with Api?
I started working with Api back in 2015 when he as around 13yrs old and just hanging at Beachouse on the coral coast. Back then there weren't many young kids surfing but nowadays there are many more.
What do you feel Api's strengths are?
Ian: Api brings a lot of excitement and enthusiasm with his surfing. You never quite know what he will try next.
Any weaknesses he's working on right now or challenges you see him facing?
Ian: Sometimes he starts to worry about the outcome instead of just enjoying the moment. Api is a good surfer. Hopefully Api stays true to his love of surfing and doesn't get distracted by other goings on. He has very supportive parents and family so it should work out for him.
Thank you to all the donors who helped support Api's Japan trip, purchase his surfboards and pay his entry fees to the Huntington Beach competition!