A guide to surface fishing in Fiji with Namotu fisherman, Dyllon Schulz
Every fisherman loves topwater fishing. It's exciting, visual, aggressive, and really gets your heart racing. Plus there are so many abundant species to target, especially in this beautiful part of Fiji where there are reefs, bombies as well as deep water to choose from.
If you're new to topwater fishing, let's start with the basics. First of all it's a really physical fishing technique (prepare to work up a sweat) that uses an artificial lure drawn along the surface of the water to attract fish lurking below. It's probably the most exciting type of fishing you can do because you can actually see the fish hit your lure. You might have also heard it called popping, whipping or surface fishing.
Target Species & Locations
Topwater fishing targets any aggressive species living close to the surface: Giant trevally (GT), red bass, coral trout, emperors, tunas, Spanish mackerel, Sailfish, wahoo, mahi mahi and even small marlin.
You'll find species like GT, red bass, coral trout, emperors and Spanish mackerel by casting around reef edges, shallow bombies or current lines running off of reef. These fish are found in this area of Fiji all year round and make for really fun catching that's so close to Namotu.
Bigger species such as yellowfin tuna, Sailfish, wahoo, mahi mahi, marlin, mac tuna and skipjack are found in deeper waters where you can hunt for bait balls, floating logs, and deep water current lines. Look for birds on the horizon with a good pair of binoculars or sharp eyes. Although small yellowfin tuna can be caught all year round in Fiji, the big ones pass through from November to May.
Equipment & Technique
The aim is to attract a fish by using your lure to mimic an injured or feeding fish. Drag your rod tip back about a metre at a time to work the lure and give it the right action.
Topwater Lures: Poppers & Stick Baits
There are two main types of lures you can use. The first is called a popper that will have a concaved or cup-shaped face that makes a big splash and air trail that mimics a small fish feeding as you work the lure back. It's this sound and visual that calls up your bigger target fish from below.
The other types of lures are either floating or sinking stick baits. These both mimic injured fish and will make less disruption on the surface but for some reason the fish around Namotu just love them! The same technique is used – work your lure with the rod tip as you simultaneously reel in. Then cast and repeat.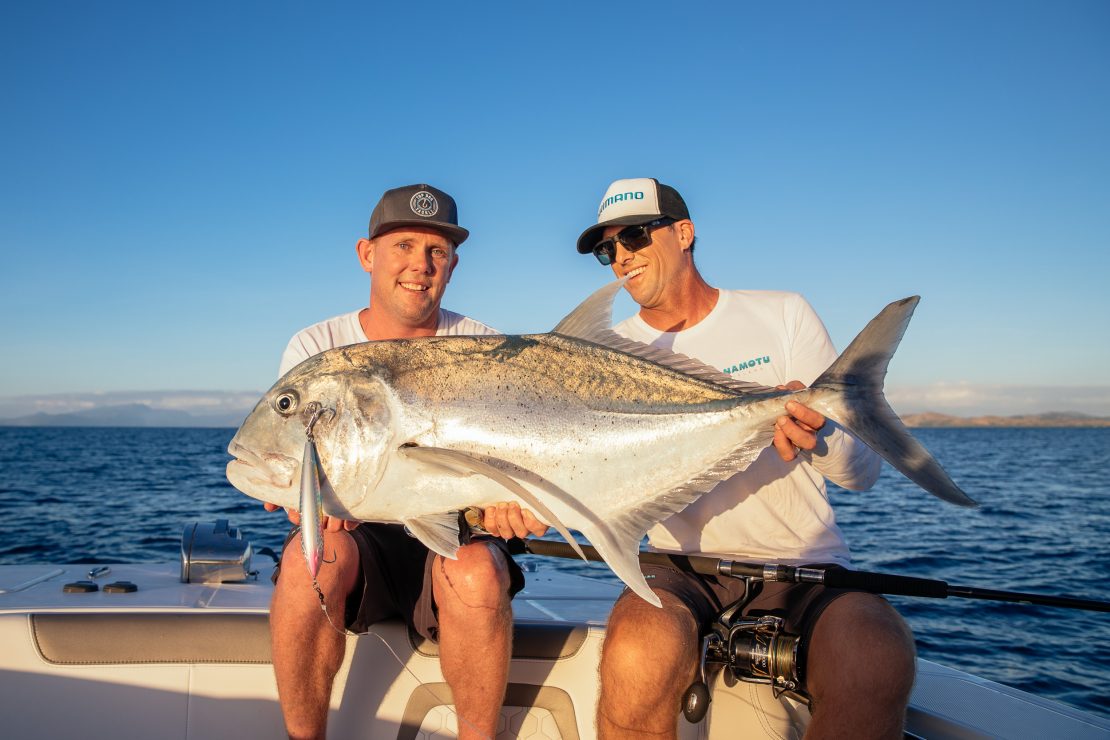 Treble Hooks or Singles?
When you're chasing smaller species, treble hooks are perfect because they'll pin anything, anywhere. The fish doesn't even need to bite the lure, it can be hooked in the gill and generally speaking has a better chance of sticking to something. However if you're chasing something bigger like those seasonal yellowfin tuna then it's wise to swap your treble hooks for a large single that will hold your fish better through a long fight.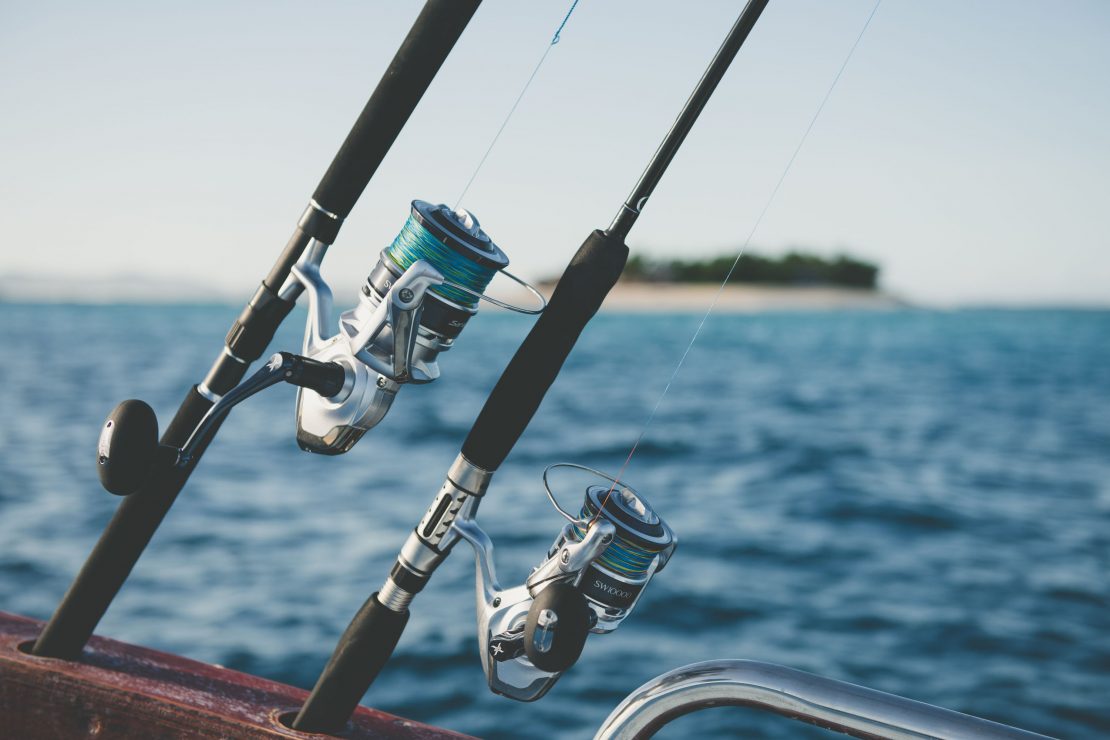 Rods & Reels
Here on Namotu we use two types of rods depending on the size of fish we're going for. A light rod is really and fun for around shallow reefs when you're chasing emperors, bass and blue fin trevally. Then you've got bigger 24kg casting rods for GTs, Spanish mackerel and yellowfin tuna. You can even go bigger – up to 36kg – for seasonal yellowfin that can be well over 50kg.
When it comes to reels we use all Shimano gear and absolutely love the Stellas. We carry a big range of these reels but will opt for between 18000-25000 depending on the size of fish we're chasing. We supply all this gear on our charters and trips because having the best equipment can mean the difference between catching lots or none.
The Best Boat for Topwater Fishing
The ideal boat for topwater fishing must have space to cast. Given that the GT grounds are so close to Namotu we like to use our specially built casting boat, the Ika Vuka to dart around reefs close to the island. Its casting decks mean you're up nice and high for a long cast. If you're after bigger stuff or have more crew then the Mitaia or Cobalt are more suited. The Cobalt's gunnels are really wide and her bow can comfortably fit two anglers with another two at the back. The Mitaia also has a custom-built casting deck for topwater fishing.
Seasons & Conditions for Topwater Fishing
We find the fish are most active in low light times so typically around dawn and dusk. The fishing around Namotu (like most places) is really dependent on tide but there's usually somewhere working at any given time. Local knowledge really helps and our guides will put you in the best spot for the moment.
Generally speaking the dark moon (around new moon) also offers the most consistent topwater fishing however any moon phase can work.
Although most topwater species are available year-round on Namotu, big yellowfin tuna migrate through between November and May. These fish are incredible to catch and eat and one of the reasons we love this time of year so much. We also hold our Signature Fish Weeks during this period because there's nothing quite like fighting a fish as big as a person! It's a truly once-in-a-lifetime experience.
About the Author, Dyllon Schulz.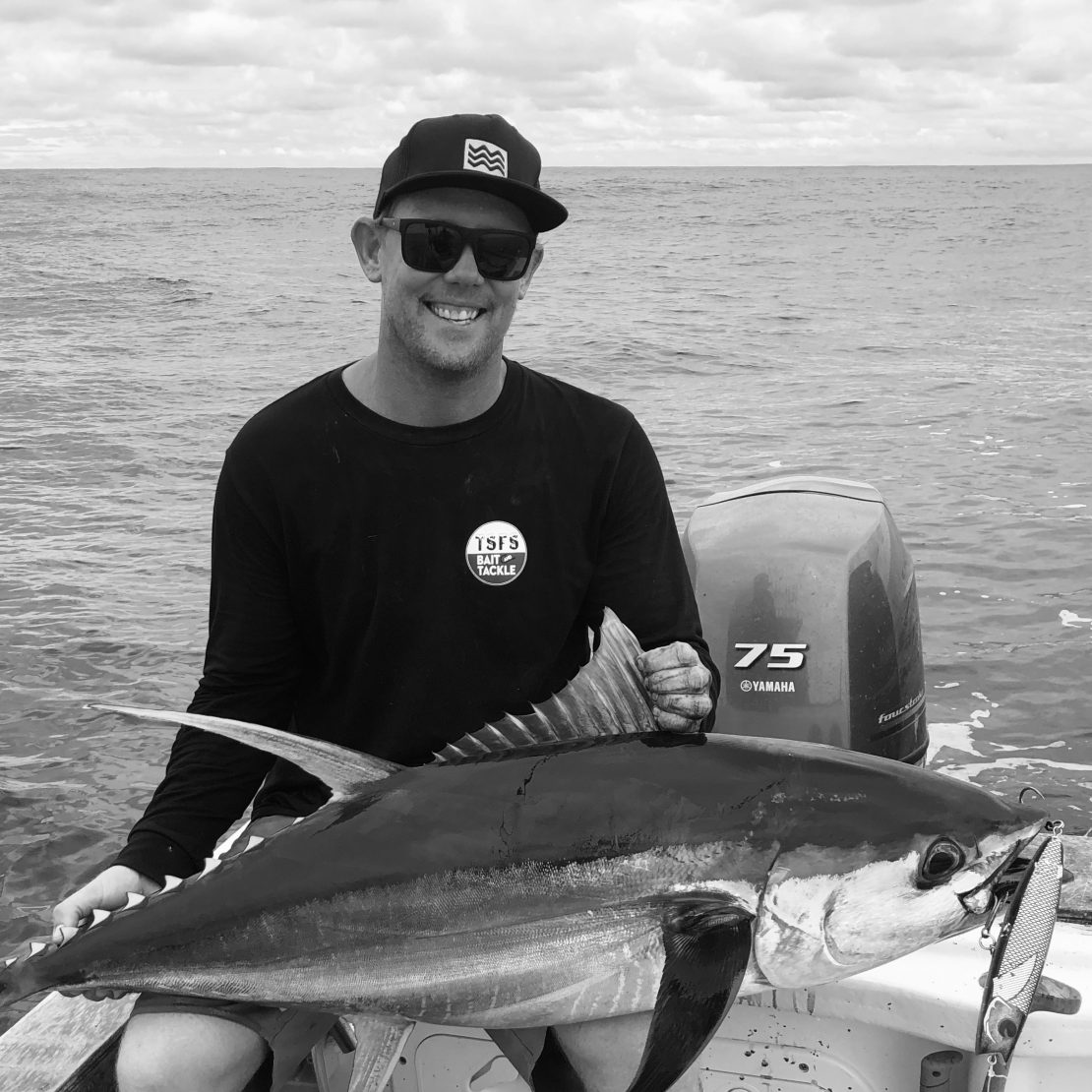 Dyllon Schulz from the Sunshine Coast, Australia. He's been fishing on Namotu for over 7 years and is one of our best charter guides and most reliable suppliers of fresh fish for our resort restaurant. Dyllon has an almost manic enthusiasm that's matched only by his knowledge of fishing that has recently seen the launch of his own brand of lures, Top Dog Tackle. You can catch him this coming January & February when he'll be our specialist topwater fisherman and host Fish Week guests onboard the Ika Vuka.
For more information on our Signature Fish Weeks CLICK HERE.
For more information on our fishing charters CLICK HERE.