Namotu Island is the ultimate destination for water sports enthusiasts. While we're normally above the water for most of our activities, there are moments when things don't go as planned, leaving you breathless underwater. That's where freediving comes in. By learning to freedive, you can gain confidence, remain calm, and safely expand your range in activities such as surfing, kiting, foiling, spearfishing, and snorkelling. To help us delve into the world of freediving, we've invited Kyron Rathbone, a renowned big wave surfer and waterman, to share his expertise and conduct breath hold training sessions during our Unlimited Weeks. And let me tell you, after just one week of the season, it's already proving to be an invaluable addition to our trips…
Kyron's journey into freediving began in the Philippines, prompted by a series of wipeouts at Shipstern's Bluff in Tasmania. Initially, his main focus was simply to improve his breath-holding ability to handle intense situations. However, as soon as he submerged himself in the ocean, he discovered a profound love for freediving. It's not so much about the sport itself, but rather the serenity of being underwater and finding contentment at the depths without the need to resurface for air. For Kyron, freediving is now a form of meditation and an integral part of his life.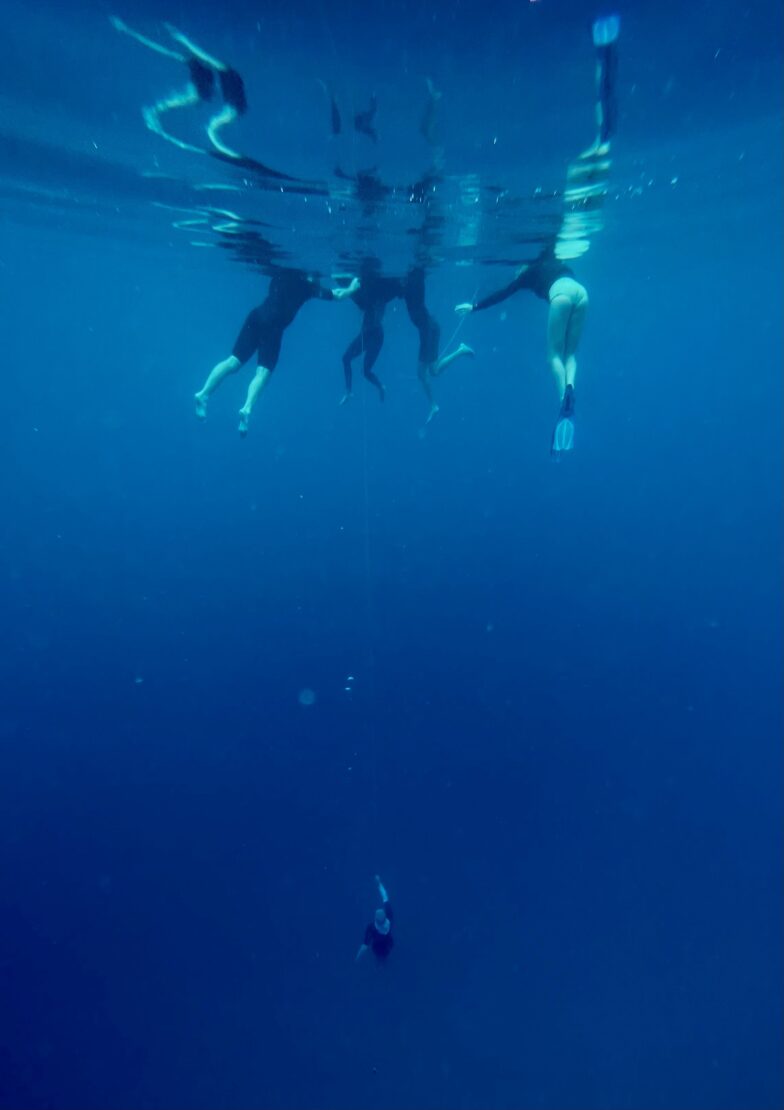 During Unlimited Weeks, Kyron has been sharing his passion and knowledge with our guests. Witnessing the progress people make in such a short time has been truly inspiring for all of us. The transformative experiences have been profound, and guests have discovered previously unknown aspects of themselves. Simplicity is key in his teaching approach, as the physiological intricacies of freediving can be overwhelming at first. Instead, he focuses on imparting the fundamental principles. Through straightforward breath hold training, he breaks down the dynamics of a breath hold, explaining the sensations one experiences and why it's possible to hold one's breath longer than expected. Once the basics are covered, participants take to the water for dive sessions and line training. Once they feel comfortable with the line training and comfort at depth, they can venture into the reef and dive with sharks, turtles and fish.
"Freedive is the perfect compliment to all the watersports we do on Namotu Island. I was told by one of our guests last week who had a mad wipe out at Cloudbreak and got a few waves on the head, he said, the little course he did with me saved his life. So when you have that knowledge, you can apply it to all the extreme sports we do here above the water. It just goes hand-in-hand."  

Kyron Rathbone