The best thing about high-speed trolling for wahoo is that when they hit at that speed it's simply explosive. Reels screaming, everything happening. Plus it's one of the most effective ways to catch these speedsters.
Wahoo are one of the fastest fish in the ocean and are really aggressive ambush predators; they'll bite at something going past them even when they're not hungry. Trolling at speed is a great way to target them specifically although you can also catch them jigging, casting top-water, live and dead baiting.
Back in the early 2000's we did a lot of fishing competitions around Fiji and devised a winning strategy based on catching kilos rather than a couple of trophy marlin. The fish we liked to catch were wahoo and we did it high speed trolling. So I've caught a lot of wahoo over the years in Fiji and although my personal best is 39kg (85Lb), I've had a whole lotta trophy fish between 35-39kg. I've also seen a few 40-50kg fish caught in the area over the years, but I'd say 20kg is an average size fish in these waters and 25kg plus are common. Here are my tips and techniques for catching wahoo in Fiji.
Behaviour & Conditions
What's really special about wahoo is that they'll tend to congregate in numbers so when you find one you'll likely find more. Where they choose to feed on any given day depends but let the current lines, tide breaks (usually best at top or bottom of the tide), reef edges, moon phases & bait balls guide you. Once you get bit, it's best to mark this spot and continuously work the same area as you'll tend to get more strikes. On the flipside, if you were getting lucky and all of a sudden it goes quiet, try changing your spread, increasing your speed or giving the spot a break and returning later.
Wahoo like being tight up against reef edges with deep drop offs, however if you're not getting any bites try incrementally moving away from the reef in ~100m increments. As always, having an experienced guide who knows the area and its conditions is the best bet for finding (and catching) fish.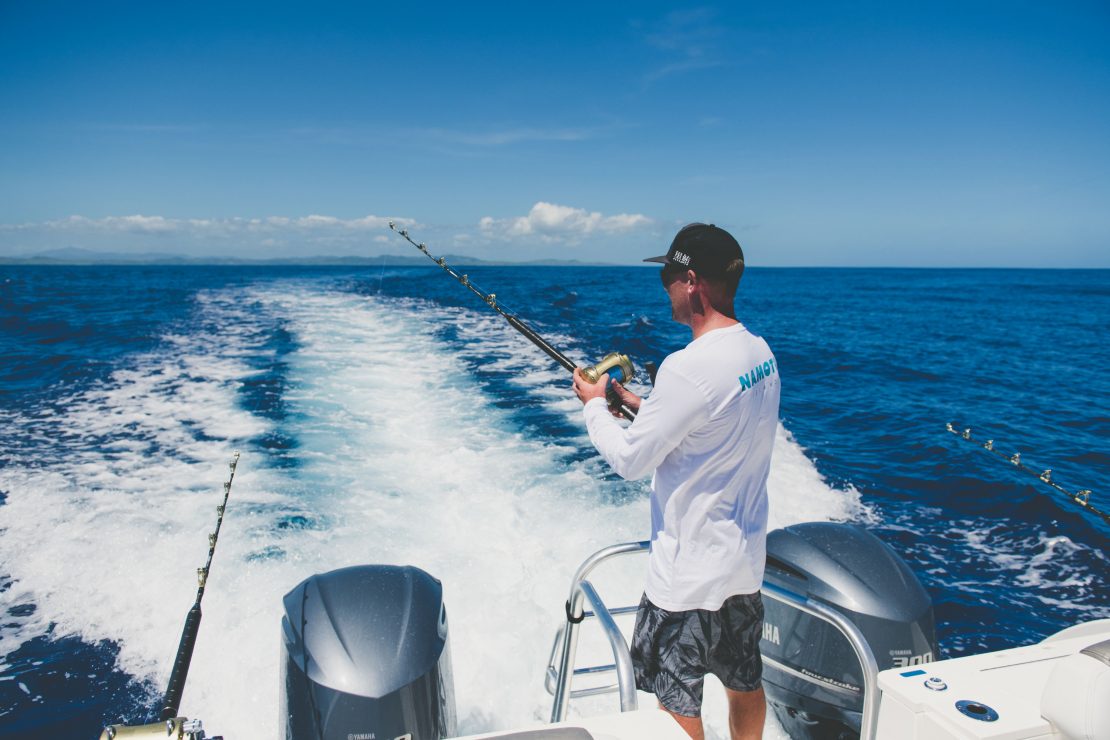 Trolling Technique
A standard troll speed is usually around 8knts and high-speed trolling is up to 20knts. Usually I average around 15 knots, but will fish at speeds starting at around 11knots all the way up to 20knots depending on the spread and the conditions (the rougher it is, the slower you go). These fish are really aggressive so when something whizzes past their face, their natural instinct is to take a bite and ask questions later. By increasing your boat's speed you can stir them up, which is a good technique if you're just not getting the bites you expect.
Also when trolling at higher speeds you cover more ground so have more opportunity in catching fish.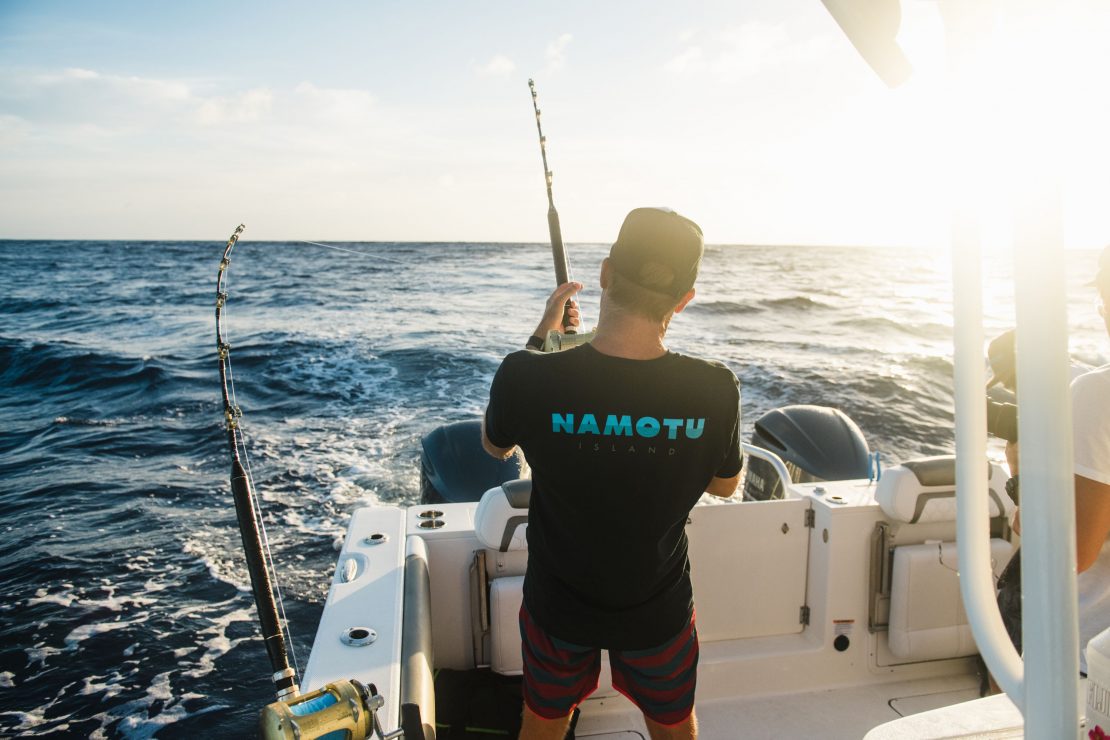 Lures & Spreads for Wahoo
The lure is going so fast so they don't have time to inspect it so you can use bigger hooks and thicker cable, but this doesn't mean it's an open invite to rig poorly.
Wahoo really love artificial lures but when it comes to trolling at speed, look for heavy jet heads or skirts combined with a selection of bibbed and bib-less minnows that will stay in the water.
Running a mixed spread is a good way to begin so you can hedge your bets but of course you can switch this around depending on what's working on a certain day. At the start of a session when you're just scoping out where the fish are hanging, I recommend a 5 lure spread as follows:
A short corner at 5000 count: Usually a minnow
Long corner at 10000 count: Usually a minnow
Short rigger at 15000 count: Either a minnow or a jet head
Long rigger at 20000 count: Usually a jet head or a skirt
Shotgun at 30000 count: Usually a jet head or a skirt
This setup allows you to zigzag in and out towards the reef without tangles. Sometimes you might find that most hits are on a lure set a certain distance from the boat. I'll then alter my spread accordingly; if I'm only getting hits at 30000 I'll send everything out further but keep the general ratio.
Like everything when it comes to fishing, nothing is an exact science so you need to be flexible and adjust to the day at hand. There's no benefit to being stuck in your ways.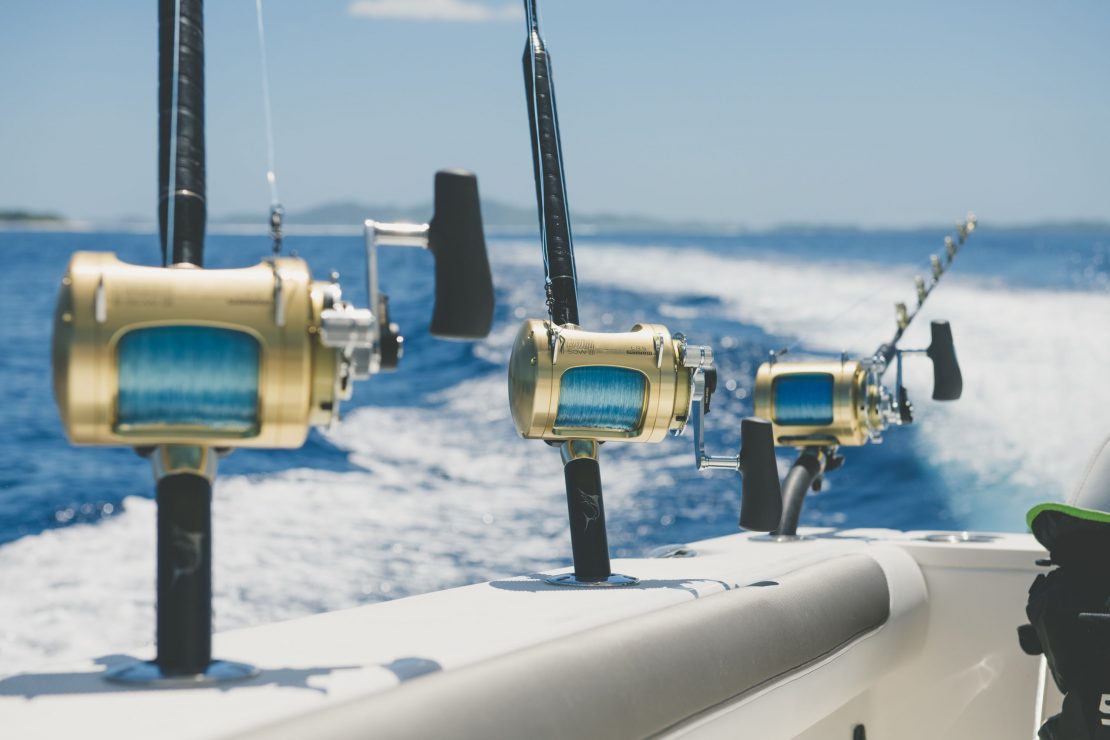 Rods & Reels
For trolling I like to use the Shimano Talica 20000 or Tiagra 30 wide reels. I'll pair that with a Tiagra Ultra rod. You can run 24kg line on these reels yet they're still a nice light game fishing setup that's fun for fighting fish.
If you're casting or jigging for Wahoo I choose a Shimano Stella 10000 with a type J setup. I love the lightness of the gear but can still fit 300m of line on there. The next step up for casting for the bigger fish is the 18000 that I also reserve for yellowfin.
You can't go past the Stellas – they are the best in the world for topwater fishing!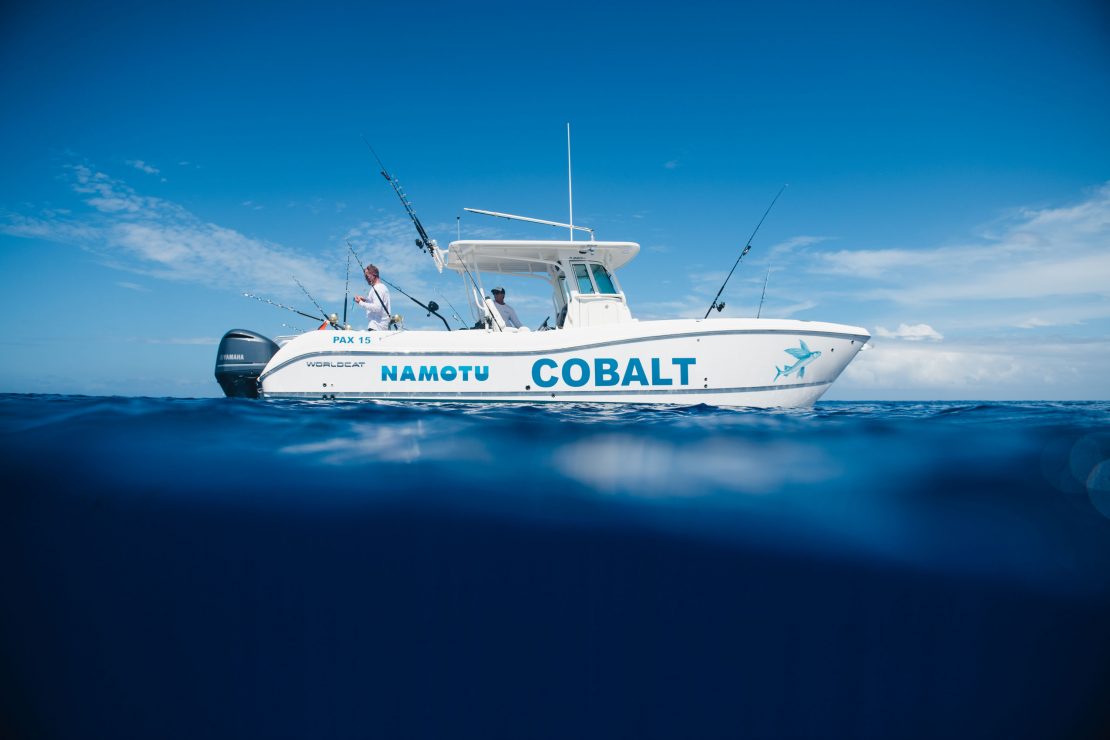 The Best Boats for Wahoo Trolling
When you're chasing wahoo you're usually fishing up against reef edges and dealing with extra turbulence and chop so you need something stable. I love using Namotu's WorldCat, the Cobalt because when you're going that fast it's good to be comfortable. It also has the speed and stability to easily hop between areas when one spot might not be working.
The Cobalt is equipped for trolling with a wide stern that has plenty of space to run a wide spread. Plus it has 2 x huge kill tank that easily fits ten 20kg wahoo on each side of the boat (yes, I've personally tested this out for you). Fish bags are great but you want to be careful when putting wahoo in them because their teeth are so sharp they can tear up and destroy the bags.
Wahoo from the scrapbook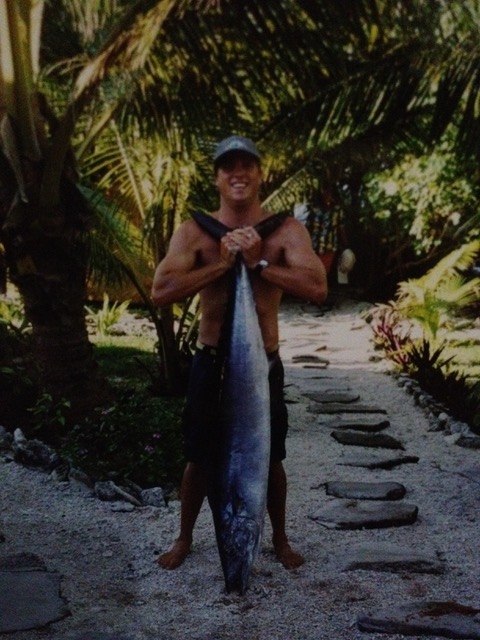 It was 1998 and this was my first proper Wahoo and the beginning of my addiction to the species. I caught it near one of my favourite surf spots right off Namotu Island on a Rapala lure and 15kg line. It almost spooled me on my first run and to this day is still one of my best fishing moments. I had no one else on the boat so it was a true battle.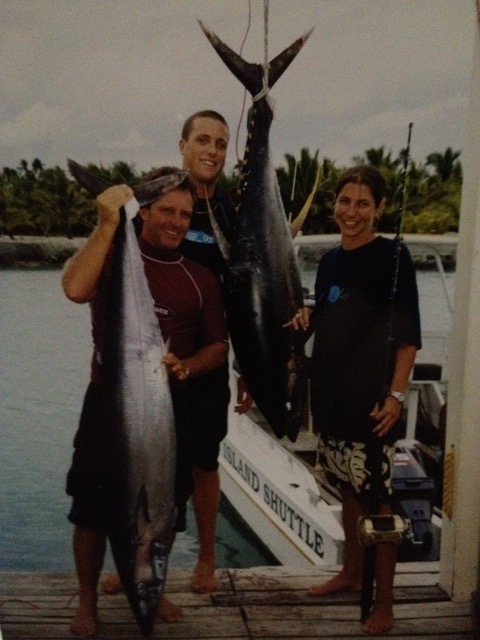 This was the first tournament I ever went in with Geoff Doig (Namotu owner) and Penny Casey, in the late 90's. It was held at Musket Cove and we tagged multiple marlin, but spent most of out time targeting wahoo. This (pictured) 38kg specimen helped us win the event.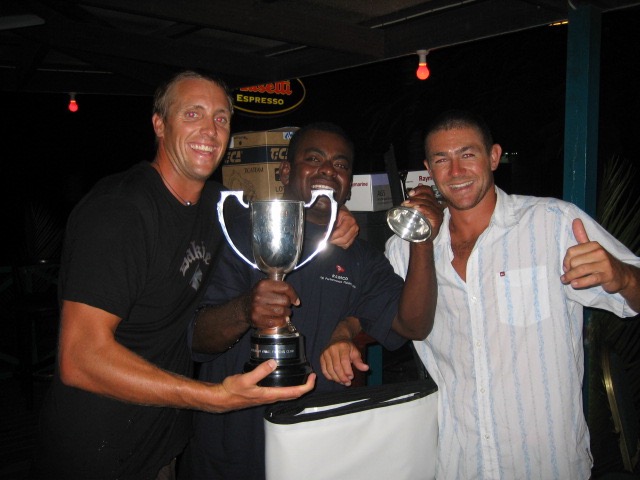 Liam Kelle (one of our best fishing guides), Ulai (Namotu mascot) and me winning the annual Denarau Game Fishing tournament in 2005. We used to let everyone else go out wide and target tuna and billfish and we'd stay hard on on the reefs and target wahoo with high speed trolling. The worst we ever finished was second place and that was only once when one vessel had an outstanding event, tagging multiple billfish.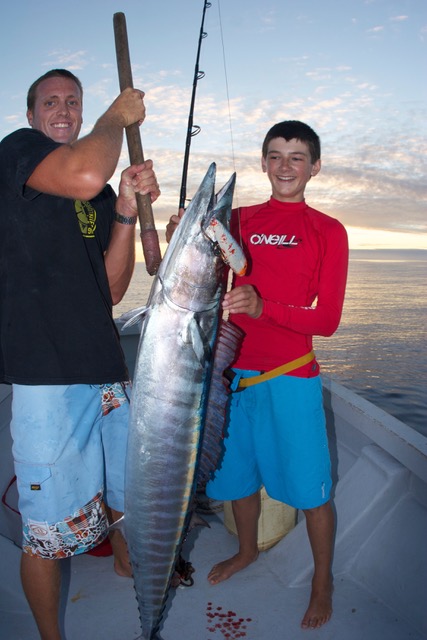 A good size wahoo for this youngster directly off Wilkes Pass in June 2007. This specimen fell victim to one of our most productive high speed lures, the "braid marauder." Trolled at around 12knots at a 5000 count (short corner) in perfect conditions right on sunset.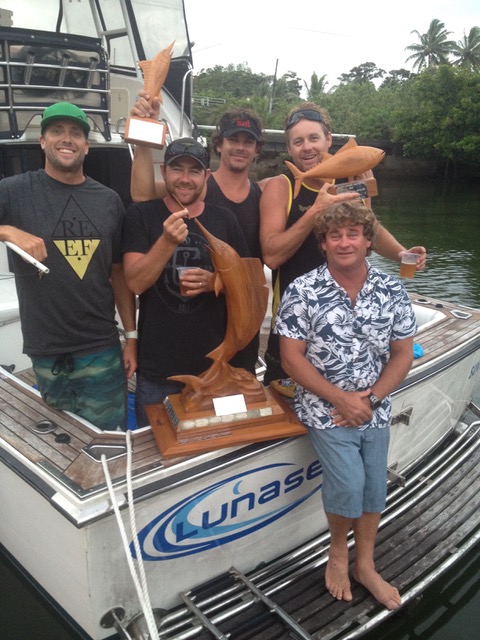 Team Namotu L-R: Ben Wilson, Liam Krelle, Damian Oswald, Ryan Irvine and Scotty O'Connor. We took the win at the 2012 Pacific Harbour International Game Fishing Competition. Most other boats targeted billfish and tuna and we stuck to our guns and high speeded for wahoo. It was a 3 day event and we caught enough wahoo to win on points on the very first day (12 in total averaging 25kg per fish). On the second day we had another huge catch but our boat broke down so we couldn't weigh our fish. We got to the weight-in late which disqualified us for the day but on the final day we had another great catch.
Wahoo are found year-round but in the summer months they're usually only found around bait balls or tuna piles out wide whereas in winter months (May-September) wahoo move into Fiji in big numbers. See more info on fishing seasons here.
Seasons for Wahoo in Fiji
If you want to troll for wahoo you can visit Fiji or book a charter any time. However if you're really after the bigger fish it's a good idea to visit in the winter months. Bear in mind that winter (May-Sept) brings with it Trade Winds which can make going out wide a challenge. Generally speaking the summer months are friendlier for fishing and tend towards glassier days, more fish activity and some tropical afternoon/evening storms. It's for this reason we run the Namotu Fishing Weeks during January and February when the water is warm, the baitfish are running and the ocean is calm.
About the author, Ben Wilson.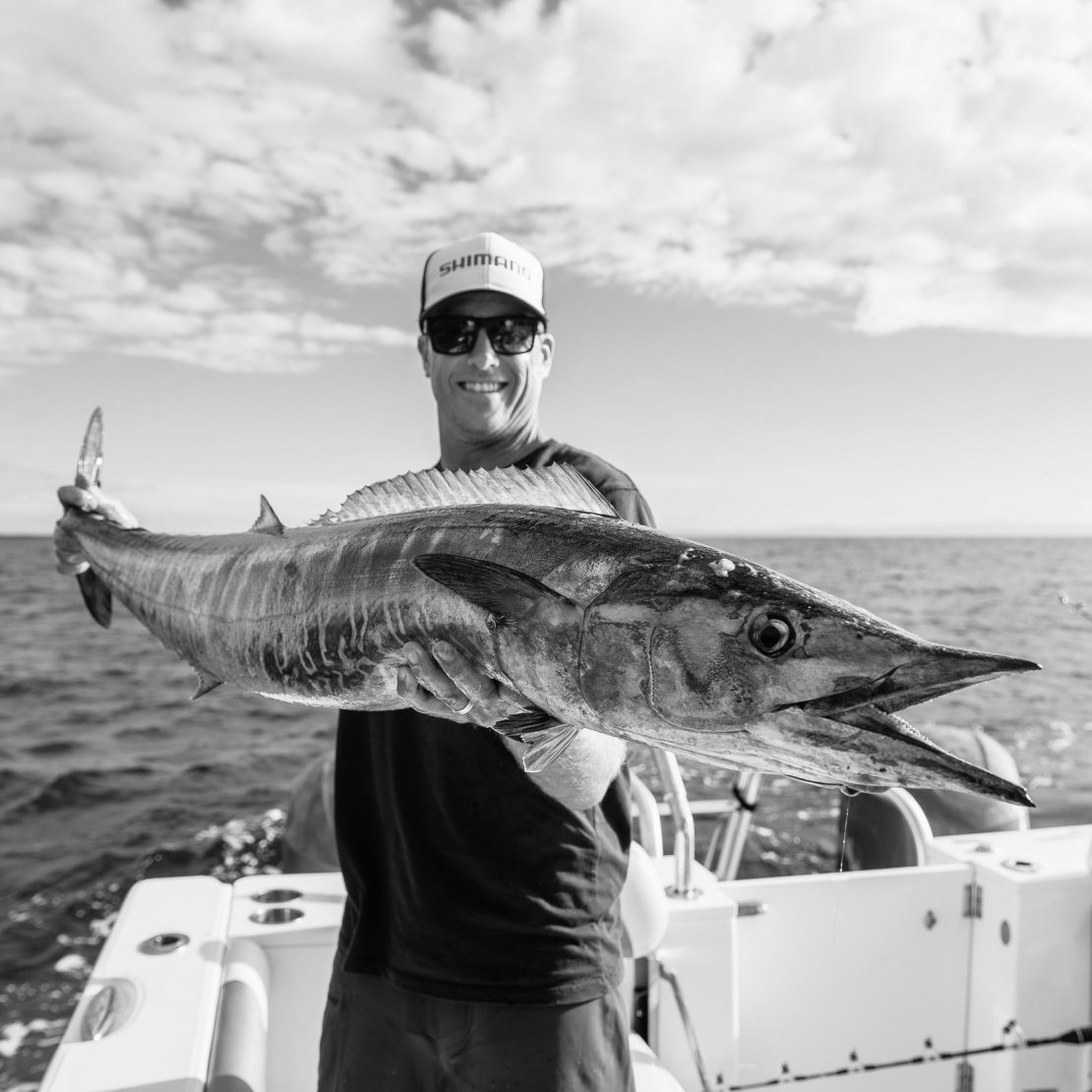 Ben has been coming to Namotu since we opened in 1994 and has seen his share of fishing competitions, hard days on the water chasing fish for the chefs and some incredible fish. Although he's better known for kitesurfing, fishing is one of his biggest passions and over the last couple of years as Namotu GM he's introduced charter fishing to our offering plus expanded our fleet of fishing boats.