The Fiji DMF are a USA-based non-profit medical organisation that visits Namotu and the local village of Solevu in the Mamanuca Islands each year. This team of roughly 30 volunteers provide vital dental care to the region's resort staff, residents and school children.
Why are the Fiji DMF are so important?
Oral health and knowledge in Fiji is often poor, particularly among remote villages. Major cities and health services can be difficult to reach and expensive for locals so the Fiji DMF comes to them and sets up a mobile clinic in the community hall. There they provide a full dental service, as well as general medical screening, education, toothbrushes and toothpaste for people who would otherwise go without.
The Statistics for 2020
In March 2020, over just 4 days of clinic, the Fiji DMF treated 504 people, performed 199 fillings, 353 fluoride treatments, 328 extractions and replaced 92 teeth in 32 patients. This is an incredible amount of work in such a short space of time!
These Before & After Photos Say It All
The Importance of Healthy Teeth
Many of the patients work in hospitality and a big, healthy bula smile can make all the difference for their confidence both at home and at work. Not to mention that rotting teeth harbour infection that can cause pain and other systemic issues!
Education and Treatment at the Solevu School
Each day after lunch the children brush their teeth. This practise has been implemented since the Fiji DMF began visiting 8 years ago and oral health in the these children has greatly improved during that time.
The Solevu School children are all treated with fluoride which halts the decay process. This is both fast and effective in treating baby and adult teeth meaning less extractions and fillings. Meanwhile educating mothers on child nutrition and avoiding what's known as 'baby bottle syndrome' is ongoing and resulting in healthier baby teeth in children. Watch the video for Greg Moegling's explanation on this serious problem.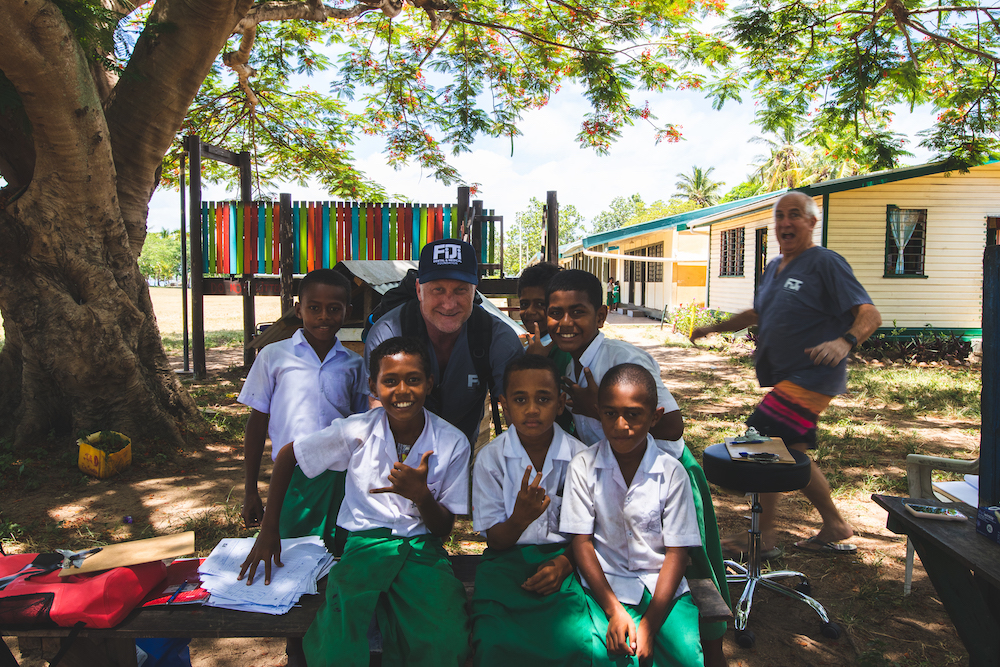 Funding & How You Can Help
Namotu Island Resort is proud to support the Fiji DMF and their vital work. The organisation is funded by the people who volunteer their time and actually do the work; Greg Herd, Greg Moegling and Mark Brown run the organisation tight so it's a very efficient charity (unlike so many others!). Any donations are spent on equipment as the work, airfares and accommodation are already covered.
Our contribution is food, board, transport, logistics and support but if you can spare some cash or wish to volunteer your time, please visit https://www.fijidentalmedical.org/ to donate. Every dollar goes back to giving our Fijian staff and the local region the best dental care.
Vinaka vaka levu!
Contact the Fiji DMF
Stay in touch via email: fijidmf@gmail.com
Web: https://www.fijidentalmedical.org/
Instagram: https://www.instagram.com/FijiDMF/
Facebook: https://www.facebook.com/FijiDMF/