Namotu fishing guides, Ben Wilson and Dyllon Schulz are hosting their own Australian TV show, "Reel Destinations".
These two characters have spent a lot of time fishing together in Fiji but they do it all back home in Australia too. Reel Destinations follows their fishing adventures around Queensland's Fraser Coast and beyond.
Many of our guests and charter fishing clients have fished with Ben and Dyllon over the years and will know just how passionate these two are about fishing. Both Ben and Dyllon live on Queensland's Sunshine Coast where they're equally passionate about exploring their backyard. Last year they were approached to host a brand new TV show that showcases not only fishing, but camping, exploring and cooking.
It's obvious that Ben and Dyllon can catch a fish or two, but did you know Ben is also a chef? In fact, he set up Namotu's kitchen when we first opened and still enjoys preparing the day's catch. He's sharing a bunch of his favourite recipes on Reel Destinations and showing how simple it is to make tasty fish dishes at home. Of course, nothing compares to deep fried ruby snapper wings and poké bowls right here on Namotu…
If you're in Australia you can watch Reel Destinations live on Saturdays at 1pm on Channel 9 or via the catchup service (Australia only). Not in Australia? Don't worry, we've tracked down Episode 2's chilli crab recipe so you can get a taste of it wherever you are.
Here are some classic Ben & Dyllon fishing shots from Fiji.
Chili Mud Crabs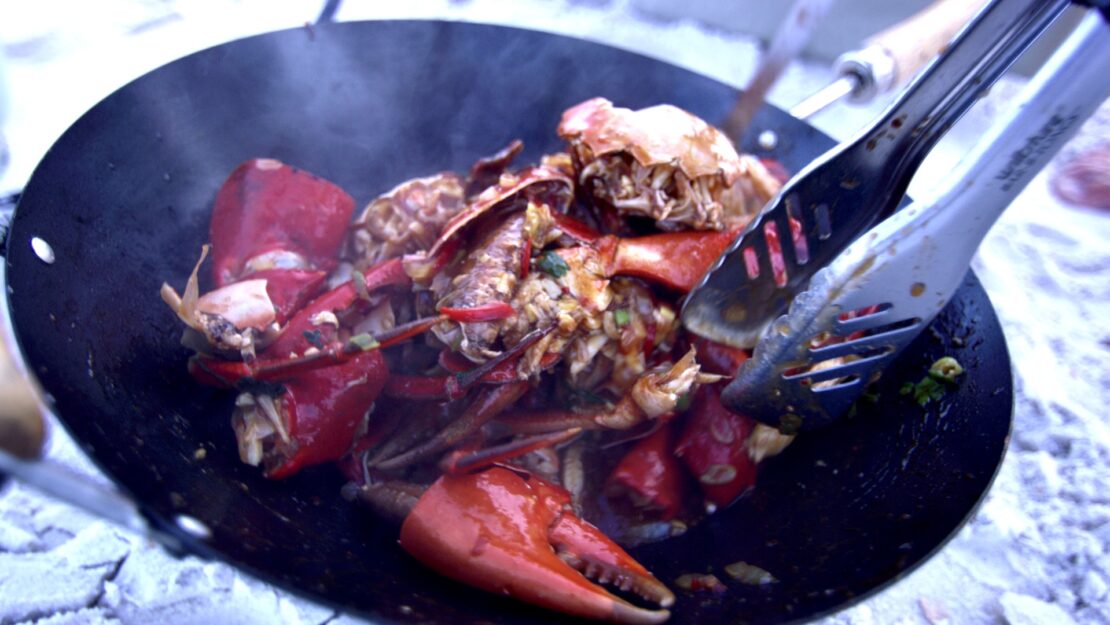 Ingredients:
2 x 2 kg mud crabs (or your local crab, lobster or crayfish)
4 tbsp oil
6 x cloves garlic
2 x thumb size ginger
Half bunch of shallots
Half bunch of coriander (or cilantro for the Americans)
6 x chillies – you choose how hot
2 x white onion
4 x tbsp soy sauce
8 x tbsp organic tomato sauce
4 x tbsp organic sweet chilli sauce
2 x limes
200ml water
How to cook the mud crabs:
Bring a big pot of salt water to the boil. Don't put crabs in alive, always cool them with ice or place in the freezer first so it doesn't toughen the meat. Once the water boils put in the crabs.
General rule of thumb that I use is a cooking time of 12 minutes per KG from the time the water starts to boil again after you have put the crabs in. For example, if your crabs are 1.5kgs, then you'd cook them for 18minutes.
After the crabs have cooked, place them straight into iced water to stop them cooking. Once they've cooled down, break them up and clean out all the unwanted parts, making sure you crack the claws and bigger parts so the sauce can seep in.
Making the sauce:
Heat the oil in a large wok
Add the garlic, ginger and chopped chillies for about a 1 minute or until fragrant
Add the tomato sauce, soy sauce, chili sauce and 100ml of water, and stir to combine. Add the remaining water only if you need it.
Throw in the crab, turn up the heat and stir-fry for 3-5 mins or until the crab is piping hot and coated in the sauce.
Stir through most of the coriander and spring onions, but save some for the garnish.
Place the grabs on a big sharing plate, garnish and prepare to get your hands dirty, it's a true experience.
Want to watch more of Ben & Dyllon's fishing adventures? Check out the trip they took on the Cobalt.